Shared address book
via ODBC
It is possible to upload into the program a shared address book via ODBC.
This configuration is optional, but allows you to view in AsterSwitchboard a shared address book at the enterprise level in addition to your personal contacts.
From the "File" menu select "Settings", then select tab "ODBC" and Open Wizard.
You have two options.
If you do not already have a data source, you can add one with the labeled button "Open ODBC administrator panel".
If you have already configured a data source, use the labeled button "ODBC Wizard" to import your contacts.
In three steps, you will configure the address book. Each step is described in detail at the bottom of each window.
First step.
Second step.
Third step. You can see the preview with the first fifteen records.
You can confirm with the button at the bottom right of the window or return to the previous steps to make changes.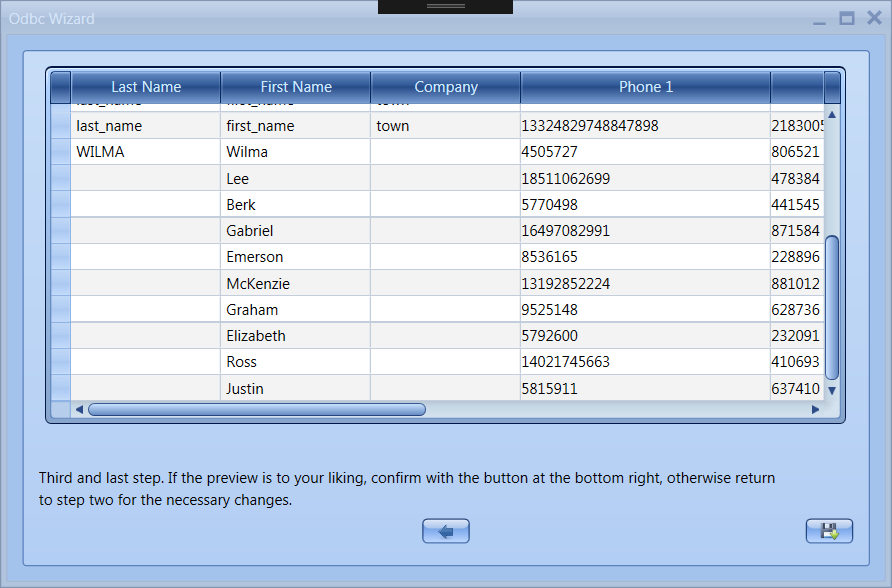 In AsterSwitchboard contacts from the shared address book are displayed along with local ones, the column "Type" shows the origin:
| Type | Description |
| --- | --- |
| | local |
| | shared |
Local contacts can be added, edited and deleted.
While you can not perform that operations on shared contacts.